IB: BJ, give us a snapshot of yourself: 
BC: I'm a multi-instrumentalist, specializing in drums and percussion. I'm also a teacher, speaker, songwriter, and audio production specialist. I can teach you – or your entire organization – how to be more productive and less stressed through playing the drums. I can also help sonically define the brand of individuals, groups, and teams of all types, in person or via skype. 
IB: How has passion propelled your prosperity?
BC: Going back even to when I was a teenager, I was never really motivated by anything other than following my passion; least of all by money. But I think I inherently knew that following that passion would lead to prosperity, even when those around me doubted it or told me it wasn't possible.
IB: BJ, you obviously do so much for the students in your own community and beyond. As a drumline and pep-band coach, high school percussion teacher and studio owner, what is the most important part of what you do?
BC: It's all important; It's all essentially doing the same thing through various pathways.
I like to say I don't teach percussion or music; I teach people. Music is just the vehicle. While I obviously teach students the technical aspects of playing percussion instruments or music production or songwriting, what I really hope to do is teach the pursuit of excellence, which is applicable in all facets of life, not just music. 
We get there by developing skills like analysis, goal setting, attention to detail, and collaboration and qualities like ambition, perseverance, sense of community, and an appreciation for diverse influences, arts, and culture.
PF: What made you decide to get involved with teaching percussion?
BC: Well, my original life plan was to become a rock star, literally, and I revisited that path a few times over the course of my life. And while I never quite got to the level of world-renowned (at least not yet), I have had the chance to share a lot of amazing stages with a lot of amazing musicians.
When I first went off to college, I intended to become a composer to write music for the film and media industries. I discovered teaching almost by accident. After a very brief stint at Florida State University, I went back home to New Jersey, and though my time at FSU was academically unsuccessful, I had expanded my marching band percussion knowledge and capability tenfold while there.
My first teaching experience was going back to work with the drumline at my old high school using that newfound capability to boost the program. Around the same time, I took on my first few private drum students to make some money and feed talent to the high school group.
I fell in love with teaching, had huge success with my students early on, and realized it was my real calling in life. In less than a year, my entire path had shifted, and I was being hired to coach drumlines all over NJ and had a full teaching schedule of private students. I then returned to college and became a full-time high school band director, while continuing to teach other competitive drumlines and my private students.
PF: A beautiful, organic progression: Give us some insight into your life outside of percussion.
BC: Most of my life outside percussion is still pretty music centric. When I'm not teaching, I produce music for other artists, and I write and record a lot of my own music too.
I've also carried my years of building successful teams into the corporate setting through team development programs and speaking engagements. I love bringing a musical and artistic perspective into an arena where collaboration and creativity are coveted but rarely developed. Not everyone needs to play an instrument to become better skilled and more fulfilled through music's influence. 

Outside of work life, I'm somewhat obsessive about hockey and a diehard Flyers fan #BleedOrange. My wife, Leslie, and I are fortunate to have been living in Ardmore, PA for many years and we're enjoying the amazing renaissance it's having with so many great breweries, restaurants, music venues and everything else within walking distance. Also, the bulk of our free time, whether at home or out of town visiting our families (we're both transplants to the Main Line), is usually spent with our sweet, photogenic Boston Terrier, Bailey.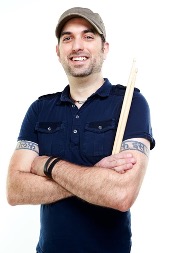 PF: Can you walk us through some details on the amazing studio you just opened? Who is your partner?
BC: My partner in the studio, and in life, is my wife Leslie. She's a phenomenal musician and piano instructor, at the top of a list of massively impressive abilities and accomplishments. We're similarly driven and business-minded, and we both wanted to expand our capabilities and reach beyond mostly local teaching and corporate programs. For close to seven years, we were looking for a place to build a studio to establish as a home base for our growing businesses. We had been traveling as mobile teachers, and almost half the space in our house was occupied by music equipment and other business-related stuff; we needed a studio BADLY.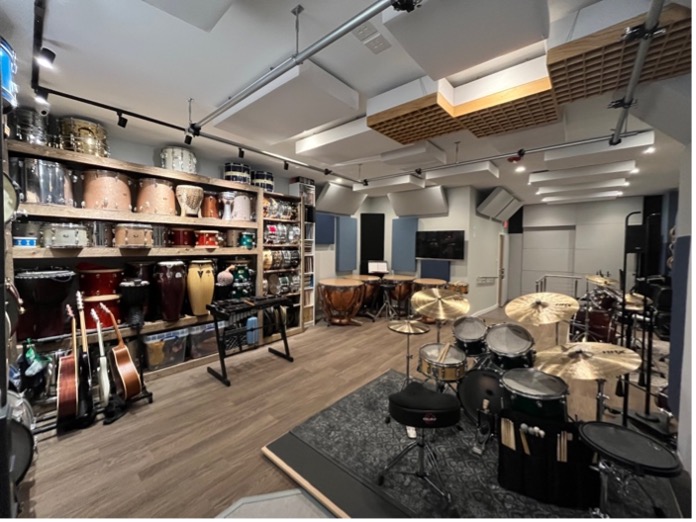 It's a 30+ year dream come true! My 12-year-old self would be so excited!
After looking at dozens of potential places, we circled back around to the owner of a neglected building in our neighborhood that we had spoken to years before to no avail. But this time he was open to selling, and after months of negotiations, paperwork, etc., we closed on the building – right in the middle of the COVID-19 shutdown. Fortunately, while getting the sale across the finish line, we had lined up our contractors before the mad renovation rush that occurred, and we got a lot of our materials before the prices went too crazy and the supply chain dried up.
The finished studio is state of the art, with full audio and video production capabilities, a full complement of drums and percussion instruments, including timpani, mallet, and Latin percussion/hand drums, along with a variety of other equipment, and a nice piano of course!
IB: What is your mission?
BC: Our mission is to use music and music education to improve people's lives through multiple avenues:
1. The capabilities of our new facility allow us to provide the absolute best quality individual and small group lessons for drums, percussion, music production, and songwriting for all ages, as well as piano for adults and teenagers. Our students are studying these instruments, writing and recording songs, making videos, and performing on stage with professional musicians for my annual spring concert at the beautiful Ardmore Music Hall.
2. Soon we'll be rolling out multiple types of local group experiences including rock and jazz ensemble classes; workshops and "play and sip" nights on a variety of music topics; as well as corporate offsite programs geared toward team development which are based on my book Armchair Drummer: The Easiest Way To Start Playing The Drums as well as my forthcoming book Think Like a Musician: 9 Ways To Be Better At Just About Everything.
3. We're starting our expansion into the online space, which will be in the form of livestreaming, video lessons, and virtual versions of many of our in-studio programs, along with some other unique offerings.
PF: Why does percussion speak to you so deeply?
BC: I was born with it. There are pictures of me, at my second birthday, being gifted a toy drum. Our family legend is that I ignored my other toys after that. I always wanted to be a drummer, long before I had the chance to join the school band or take lessons. It's only grown from there.
There's a primal power and joy in the sound and physical vibration of percussion instruments that humans are just drawn to.
That sense tends to carry over into percussion culture. Unlike some other instruments whose players tend to be more isolated and standoffish toward each other, drummers and percussionists are tribal and generally love to be around each other, talk shop, and play together. It's a great community. I try to foster that in my students too.
Also, percussion is so wide-ranging and diverse. I don't just play and teach an instrument, I play and teach hundreds of instruments in a variety of sizes, shapes, forms, and from a variety of cultures and places.
I've learned so much about the world and the people in it through percussion and music in general. It's at the core of who I am as a person.
IB: How can those who are ready to find their voice, enhance their talent, define their brand, and break into (or advance within) the music industry best get in touch with you?
BC: Ready to be more excited, creative, and musical? Hit me up via email: [email protected]